Citizen production?
Independence and camaraderie
Out of all the principles that a journalist must uphold, independence is the most decisive one… and the hardest to put into practice. Independence of the mind is a personal quest. Material independence, that directly contributes to it, must also be built by keeping one's own interests away from the powers that be. To refrain from participating in institutional or commercial communication is a necessity for news agencies, and features among M2R Films articles of association.

Contrary to what proponents of "anything goes" and "that's the way the world turns" would assert, journalistic independence doesn't mean treating everyone –victims and perpetrators, whistleblowers and industrial lobbies– in the same way. As long as information is duly cross-checked, the journalist may join citizens and non-profits in the name of the common good. Several NGO have thus been associated to my past investigations ("Eye Snatchers"; "Death Squads: The French School"; "Torture Made in USA"; "The School of Suspicion"; "The World According to Monsanto"), such as ACAT (Action des chrétiens pour l'abolition de la torture), Amnesty International, Human Rights Watch, the International Federation for Human Rights, Greenpeace or JAMAC.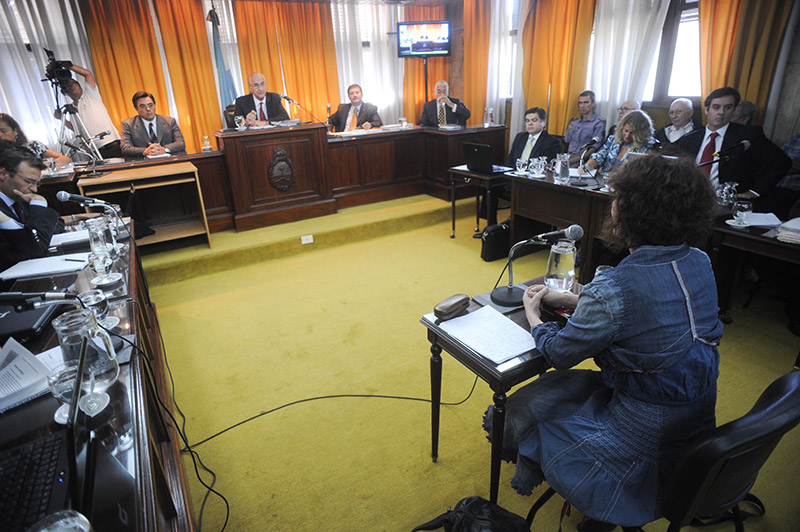 Testifying before the Mendoza Tribunal (Argentina) at the members of the military junta's trial
Commited journalism
"Out of sight, Out of mind!"
Imprimaturs are no longer par for the course, but news, while increasing in both speed and number, have become a new form of conditioning. Like it or not, official addresses dictate the rhythm of news cycles, with journalists merely summarizing the bits of information that institutions have fed them. In short: communication dominates information, resulting in widespread skepticism, and leaving no place for the real questions.

This is why investigation must not solely focus on the more spectacular events. Even in our everyday life, between cynicism and powerlessness, which both accustom us to the unacceptable, investigation allows us to ask this candid and deeply political question: "how is this possible?"

Investigative journalism
"Knowledge is power"
This sentence is the epigraph to the film and book versions of "Our Daily Poison", and my personal guiding principle. More than ever, the world is in need of socially motivated men and women, acting locally and building networks so that our good old planet Earth can stand up to the threats it faces, like the ecological crisis, poverty, malnutrition, and political and financial totalitarianism. As a world citizen, I believe that rigorous, professional information is a fundamental tool to help everyone understand the issues at hand, and to put back human rights at the heart of political, social and economic processes.

At the Ramazzini Institute's premises (near Bologna) with its scientific director, Morando Soffritti.